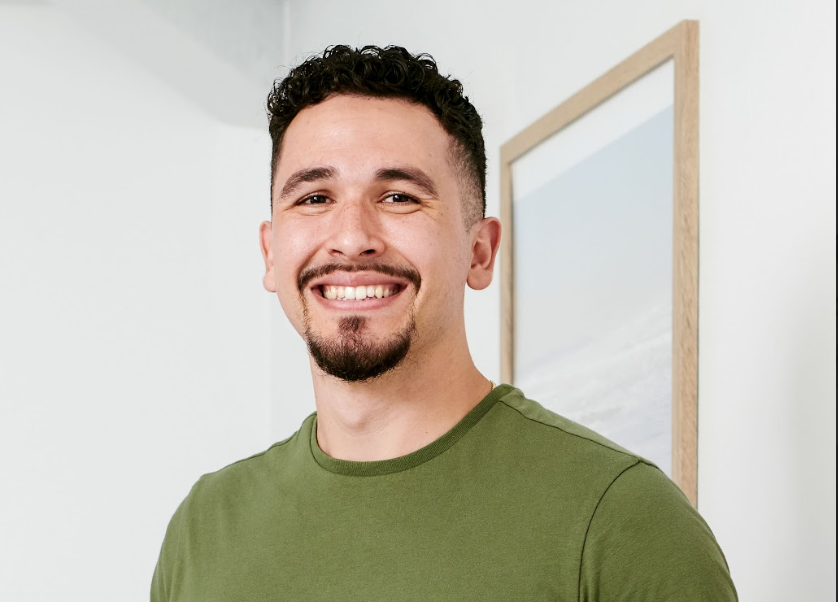 You're not alone!
People with diabetes often don't feel any symptoms. That's why you should check your risk factors by taking the 60-Second Type 2 Diabetes Risk Test from the American Diabetes AssociationⓇ.
Christian Torres, CDCES, RDN, Care Specialist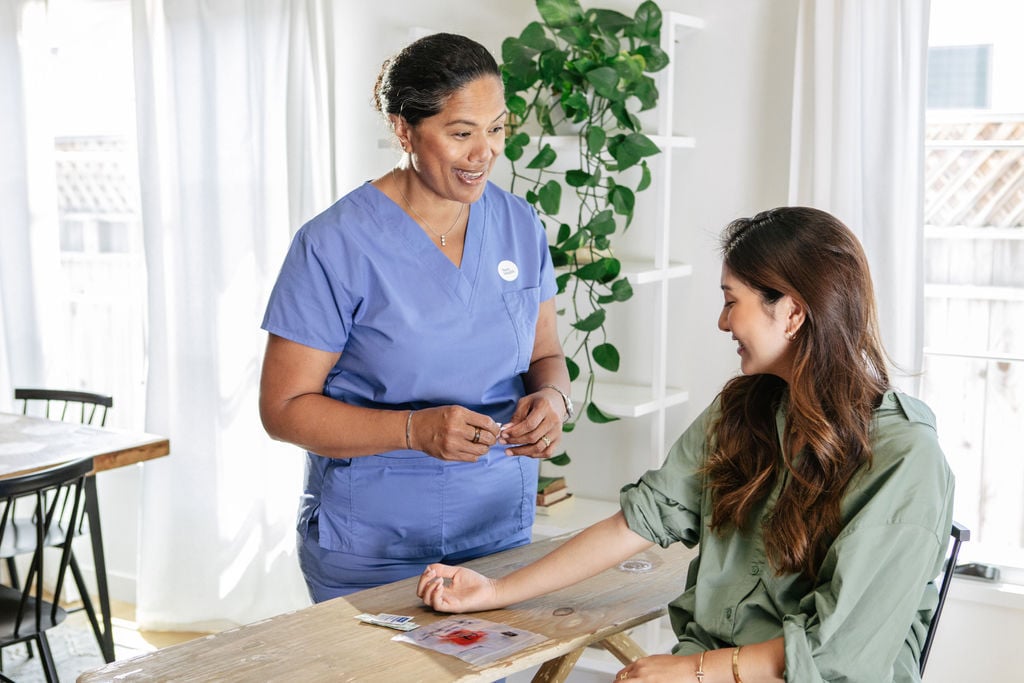 A1c Home Test
A one-time A1c test to screen for diabetes
After you complete the Type 2 Diabetes Risk Test from the American Diabetes AssociationⓇ we'll help you move forward with ease, starting with an A1c test.
A1c test at-home performed by experts
Easy scheduling and lab results in 48 hours
Medical analysis of lab test
Consultation with 9amHealth Care Team
Personalized treatment plan recommendation
Understanding your A1c result
Testing your A1c level is a quick, convenient way to screen for prediabetes or diabetes. The result is reported as a percentage. The higher the percentage, the higher your blood sugar levels over the past 2-3 months.
A1c result
Below 5.7%
Indicates no diabetes
5.7–6.4%
Indicates prediabetes
Above 6.5%
Indicates diabetes
Order your A1c test
9amHealth has a few different A1c options. Most popular is the at-home lab draw where a healthcare professional meets you at home or at work to perform your blood draw (available in select locations).
Collect your sample
After collecting your sample, it will be sent to a certified lab.
Receive your results
Within a few days of sending off your sample, you'll receive your results securely through your 9amHealth account.
Meet with a Diabetes Care Specialist
A 9amHealth Care Team member will contact you to review your results and recommend the next steps. Learn more about our care approach on the Care Approach page.
How the A1c test works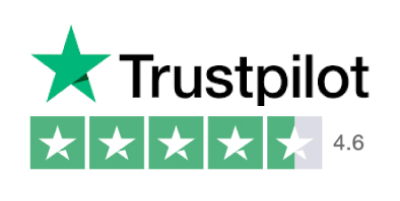 Testimonials
What our community is saying
Great service!
I work in the healthcare profession, I am very reluctant to go to a physician, because it's so hard to get an appointment! Got my lab work done within a week and had medications that I probably should've been on for the last 10 years. So convenient I really wish this had been available a long time ago.

Annette Hendricks
A great experience
This has been a great experience for me! I've received kind, professional healthcare at an extremely affordable price…thank you!!

Bill Sowle
9amHealth is AMAZING!
Dealing with 9amHealth has been the best experience in the healthcare field that I've ever had in my life. The staff is fantastic! They bent over backward to accommodate my requests and got me what I needed amazingly fast. I can't recommend them enough. Wish I could give them 10 stars!

Ray McDaniel
Very affordable
When diagnosed with diabetes I was freaking out. I came across 9amHealth and they are amazing! They are always there no matter what time. I totally enjoy the fact I can do everything from home. Best part is they are affordable!

Jamison Taylor
Did not miss a day of work
They got me on the schedule the same week to get my labs done, and they came to my job. I did not have to miss a day of work.

Gloria Lopez
I don't need to leave the house
This company is unbelievable. No doctor I've known has ever provided such incredible assistance and care, and I don't need to leave the house. I am beyond impressed and grateful for 9amHealth.

Kimberly Craft
FAQs
We always have time for questions
How much does an A1c lab test cost?
We can offer our lab tests at an affordable price because you only pay for what you get.
At-home labs: $60 per lab test

Lab visit: $28 per lab test
Take advantage of our 25% discount today!
Is there a difference between HbA1c and A1c?
No. A1c is just the quick way to write HbA1c. HbA1c is the abbreviation for Hemoglobin A1c.
How often should I check my A1c?
If you're living with prediabetes, taking the A1c test once yearly is a good idea.
If you're living with diabetes, taking the A1c test 2 to 4 times per year is recommended.
What's the difference between A1c and a blood glucose test?
An A1c test shows the average glucose levels in your body over the past three months. A blood glucose test shows the current concentration of glucose in your bloodstream.
What are the symptoms of diabetes?
Things like frequent urination (often at night), feeling very thirsty, tired, or hungry, losing weight without trying, blurry vision, numb or tingling hands or feet, dry skin, sores that heal slowly, and more infections than usual are all symptoms that could be indicating diabetes. But more often, you don't feel anything.
What factors put me at risk for diabetes?
If you're 35 years or older and overweight (BMI >=25, or >=23 for Asian-Americans). Adults of any age with additional risk factors, including a parent, brother, or sister with type 2 diabetes. If you are overweight and physically active less than three times a week, you have polycystic ovarian syndrome. If you are African American, Hispanic or Latinx, Native American, Alaska Native, or have had gestational diabetes (diabetes during pregnancy).
Will a change in health & fitness help with diabetes?
Frequent exercise has been shown to improve blood glucose levels in people with diabetes. Our Care Team can help you to establish healthy lifestyle routines that fit your life.
Do you also offer lab tests?
Yes, we're offering the following lab tests:
A1c to measure your average blood sugar levels over the past 3 months
Lipid Panel for heart health
Comprehensive Metabolic Panel for liver and kidney health and electrolyte balance (available in select locations)
Urine microalbumin test for kidney health (available in select locations)
In select areas, we send a lab technician to your home to draw your blood. If at-home labs are unavailable in your area, you can visit your nearest lab (patient service center) to have your blood drawn.
Results are available in your 9am account within 48-72 hours.
How does lab testing work?
We offer two types of lab tests, depending on where you live:
Once you schedule your appointment online, we'll send a licensed lab technician to your home or workplace. They will draw your blood just like in a lab but in the comfort of your home. Your blood sample will be taken to a lab, and 2-3 days later, you'll receive your results via your 9amHealth account. At-home labs are available in 30 states.
If at-home labs are not available in your area, we'll match you with your nearest Labcorp or Quest Diagnostics patient service center (over 4,000 locations across the U.S.). You can schedule your appointment online, or you can choose to walk in. Lab results will be available within 1-2 days in your 9amHealth account.
All lab tests include a free consultation with a member of our Care Team to review your results and recommend the next steps.